Farm sheds need to be tough enough to take the punishment of everyday farm life, and our sheds are as tough as they come. Whether you are looking for an open implement shed on your farm or lifestyle block, a secure storage facility, a large workshop, or an animal shelter, we can design a Customised robust farm shed that's just right for you.
Or if your needs are pretty standard, we have a range of quality, no-frills, modular, low cost No Bull Sheds. Our No Bull range can be modified by span, length and stud height, number of bays, size and positions of doors and colours. They are a solid quality, low cost option if you just want the basics.
View our Farm Sheds Gallery
Just click on one of the images to get a large version of the image.
112 - 12x21x4.2 - Farm shed | Storage Shed | Workshop | Wide Span Shed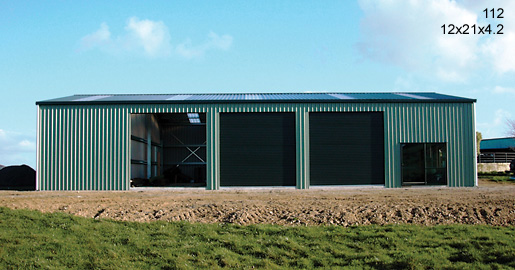 Some of the Customised flexible farm shed configuration options we offer are:
Variable Bay sizes
Internal Dividing Walls
Enclosed and Open Bays
Roller, Sliding, Sectional or Swinging Door options
Fully Integrated Mezzanine Floor System
Workshop, Office, Lunchroom and Ablution areas
Our goal is to provide you with a farm shed that creates a working environment on your farm that's just perfect for you… and at a price that delivers exceptional value for money whether it's from our Customised offering or our No Bull, Custom Kitset Shed range.