New Zealand Steel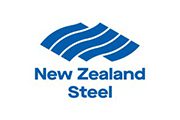 Waikato Sheds use New Zealand Steel for their custom built sheds.
Advantages of Steel Building Products
Steel is lustrous, malleable, ductile, durable, strong and can be alloyed and coated to provide a range of products ideally
suited to today's built environment. The advantages of using steel in building applications include:
Steel can be engineered to precise specifications resulting in minimal on-site wastage.
Steel is non-toxic, minimising health and safety risks.
Steel products can be used to reduce a building's cooling and heating requirement, leading to a reduced load on energy
infrastructure. NB: 90% of a building's potential energy savings are achieved in the "use" of the building during its
lifecycle, and only 10% in its construction (source: United Nations Environment Programme presentation at the World
Green Building Council in Monterrey, Mexico).
Light and can be easily transported.
Used for more than 100 years in New Zealand for the catchment and storage of drinking water.
Most recycled material in the world and steel does not suffer any product degradation through endless recycling.
Available with factory applied finishes for greater corrosion resistance and durability.
Minimal maintenance requirements and a long life.
Non-combustible.
High strength-weight ratio potentially allowing additions to buildings without having to alter foundations and
the creation of wide spans, which provide greater flexibility in the use of the resulting spaces.
Steel Products, Best Practice, Best Solutions
At every stage of the production chain, from the initial mining of iron sand through to the finished product, New Zealand Steel strives to achieve leading industry practice. After extracting the iron sand (titanomagnetite) concentrate, unwanted material is returned to the areas that have been mined, to begin the process of returning the land to its original form.
Steel's inherent properties make it the ideal building material in today's environment. New Zealand Steel is constantly conducting research for product improvement, development of new products and new applications for existing products.
We do this through consultation with industry, customers and regulators.
Through careful consideration of site requirements, product, design, aspect, colour and other properties, a practical sustainable steel solution can be achieved for your building. The steel used will contain recycled material but more importantly will be capable of reuse or endless recycling into other steel solutions.
New Zealand Steel has also established an Environmental Management System that is certified annually to 15014001 – an international standard.
Need a shed?
Book a time to have a chat about the shed that's perfect for you.