The Team at Waikato Shed Company are committed to delivering excellent service and a building that you will be proud to own. We take the time to listen to your ideas and work with you to create your dream shed.
Our product is NZ Made and we have the backing of New Zealand's largest supply chain. With 16 years experience we have contacts for everything from site works to fire design and more
As the name suggests, Waikato Shed Company build in the greater Waikato Area. Don't worry though, you can still have one of our quality steel sheds if you live elsewhere in New Zealand. We are able to supply the same shed in kitset form anywhere in Aotearoa.
Waikato Shed Company don't just churn out dozens of sheds built to the same size and spec. Each of our sheds is custom designed to fit the specific brief given to us by our client.
Our designs are not based on a restrictive modular system and our unique Software package allows us to make adjustments in 10mm increments. Wall heights of up to 7m and clear spans of up to 35m are possible
We have established relationships with multiple architects/draughts-people for internal drawings of bathrooms, sleepouts or fully habitable spaces
We offer a full compliment of services like helping with Council Consent, arranging concrete and site works.
We only use Residential Grade Aluminium Joinery in all of our steel sheds (no tin doors allowed!). Most of our competitors will quote Building Importance Level 1
At a minimum, we use Building Importance Level 2 for all of our sheds. This means they are built to a higher standard, are stronger and can be set up for one purpose, with the flexibility to change the way you use the shed in the future. There are five Levels of Importance  – see below an extract from Building Regulations 1992 showing Importance Levels 1-3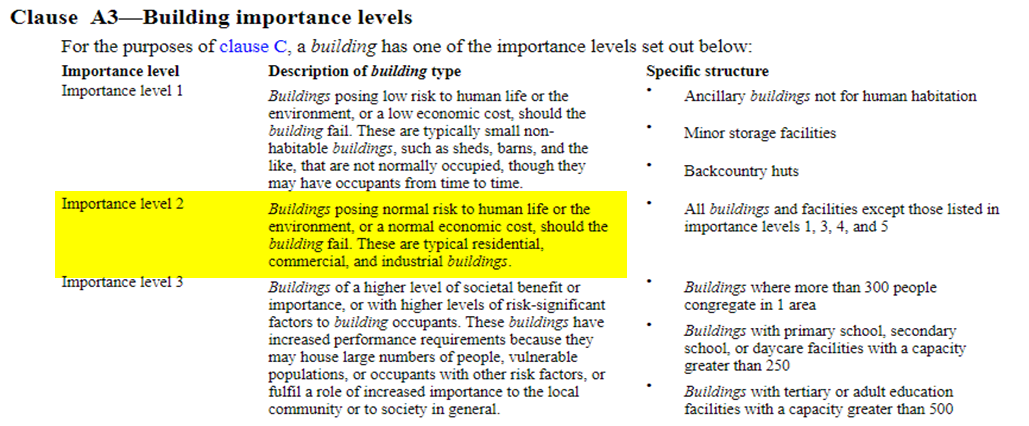 Most of our competitors understate wind speed. We do site specific wind calculations to ensure you get a shed that will meet the standards as per AS/NZS1170. Because we do this right, at the start, the price we give you takes into account the terrain and wind speeds of your site. Our competitors price for Importance Level 1 and Terrain Category 2, then charge extra if your site specs fall outside these parameters.